ZZ Top is an American blues rock band formed in 1969 in Houston, Texas.
History
The band consists of Billy Gibbons (guitar and lead singer), Dusty Hill (bassist and vocalist) and Frank Beard (drummer). They cameoed in Back to the Future Part III, as part of a local group of musicians, in 1885 playing at the Hill Valley Festival. The band even performed their signature instrument spin.
They also wrote the song "Doubleback" specifically for Back to the Future Part III. During their cameo appearance at the Festival, they play an acoustic version of the same song. While the rock version did get played during the ending credits, only the acoustic version was included on the official soundtrack. However, the song did get a proper release because it was featured on the ZZ Top's "Recycler" album, which was released on May 23, 1990, two days before the release of the film.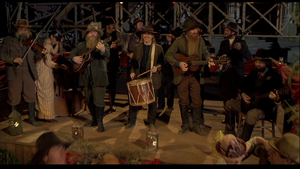 External link
Ad blocker interference detected!
Wikia is a free-to-use site that makes money from advertising. We have a modified experience for viewers using ad blockers

Wikia is not accessible if you've made further modifications. Remove the custom ad blocker rule(s) and the page will load as expected.