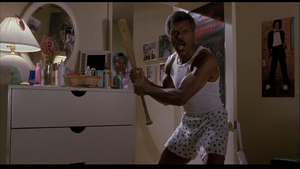 ""Freeze, sucker!!!""
—Lewis to Marty
A wooden baseball bat was the home-defense weapon of choice for Lewis.
On October 26, Lewis burst into the bedroom of his daughter Loretta when she screamed hysterically for help as Marty McFly stumbled into his former bedroom in 1985A. Furious, Lewis swung at Marty mercilessly, but Marty ducked and dodged each time and Lewis repeatedly caused damage to Loretta's belongings instead.
Appearances