Wild Gunman kids
Talk

0
1,709pages on
this wiki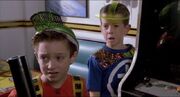 Kid #1: "You mean you have to use your hands?"
Kid #2: "That's like a baby's toy!"
— Cafe 80's in Back to the Future Part II
There were two boys attempting to start up the Wild Gunman arcade game in the Cafe 80's in 2015 when Marty McFly encountered them.
Marty decided to play the game in order to impress the boys, but was baffled when he couldn't find the coinslot and when asked, the boys didn't know what a quarter was. Marty eventually discovered that the game was started by a version of the thumb pad.[1]
However, it would appear that video games in 2015 were voice-controlled, as the boys were somewhat unimpressed when they discovered that players had to use their hands, and dismissed the game as being "like a baby's toy!".
Behind the scenes
Notes and references