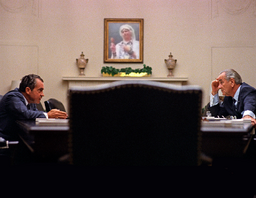 The White House is official residence and principal workplace of the President of the United States. It is located in Washington, D.C..
In 1968, Doc Brown traveled to the White House and replaced a portrait of George Washington with one of himself. This portrait was present when Richard Nixon met with Lyndon B. Johnson in July of that year.
In 1993, he hung a picture of Nixon and Johnson talking to each other at the table where his portrait was placed in his chicken restaurant.
Appearances
Ad blocker interference detected!
Wikia is a free-to-use site that makes money from advertising. We have a modified experience for viewers using ad blockers

Wikia is not accessible if you've made further modifications. Remove the custom ad blocker rule(s) and the page will load as expected.