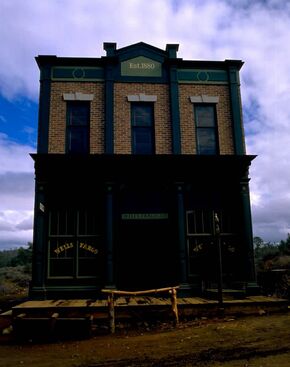 "Marty heard the sound of galloping horses. He turned around to see a stagecoach leave the Wells Fargo office — a stagecoach headed straight for him! / Marty jumped out of the way. Shouldn't stagecoach drivers look where they were going?"
—From Back to the Future Part III by Craig Shaw Gardner (quote, page 64)
Wells Fargo & Co. is a company founded around 1852.
In Hill Valley
A Wells Fargo & Co. building was constructed in Hill Valley in 1880 and was still occupied by this company by 1885. In 1955, it became a motel: the Bluebird Motel.
History
Soon after gold was discovered in early 1848 at Sutter's Mill near Coloma, California, financiers and entrepreneurs from all over North America and the world flocked to California, drawn by the promise of huge profits. Vermont native Henry Wells and New Yorker William G. Fargo watched the California boom economy with keen interest. Before either Wells or Fargo could pursue opportunities offered in the West, however, they had business to attend to in the East.
On March 18, 1852, they organized Wells, Fargo & Company, a joint-stock association with an initial capitalization of $300,000, to provide express and banking services to California.
Appearances
See also
Ad blocker interference detected!
Wikia is a free-to-use site that makes money from advertising. We have a modified experience for viewers using ad blockers

Wikia is not accessible if you've made further modifications. Remove the custom ad blocker rule(s) and the page will load as expected.