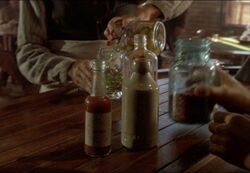 "Joey! Let's make some wake-up juice."
— Chester to his assistant Joey
Wake-up juice was a type of drink created by Chester and Joey at the Palace Saloon in 1885 as an antidote to alcohol, which Emmett Brown was forced to drink after passing out from drinking whiskey. It contained green olive juice,[1] tabasco sauce, cayenne pepper, chili peppers, onions, and mustard seeds.[2] It caused Doc to immediately wake up, run outside, and dunk his head in the horse trough (which Chester had earlier told "Clint Eastwood" was the only place to get a drink of water at the saloon).
Chester had to administer it to Doc when he took a drink on July 4 and again on September 7.
Appearances
Notes and references
↑

The first item Chester pours into the mug; you can see them in the bell jar in the images from the movie.