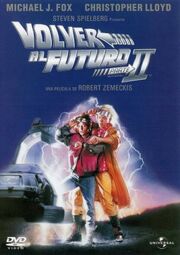 Back to the Future was redubbed into various languages for international release. There were two Spanish language versions. The film was dubbed in Mexico and Los Angeles for Latin American audiences as Volver al Futuro, and in Spain for European audiences as Regreso Al Futuro .
For Hispanic America, the film series was dubbed with two different voice actor casts: Back to the Future was first dubbed by Procineas S.L.C in Mexico. Then, Back to the Future Part II, Back to the Future Part III, and a second dubbing edition of Back to the Future were produced in Los Angeles, California.
In spite of the fact that Back to the Future was redubbed, the one that is broadcast in most Hispanic American countries is the first dubbing edition.
Mexico
Los Angeles
Videos
References
Ad blocker interference detected!
Wikia is a free-to-use site that makes money from advertising. We have a modified experience for viewers using ad blockers

Wikia is not accessible if you've made further modifications. Remove the custom ad blocker rule(s) and the page will load as expected.