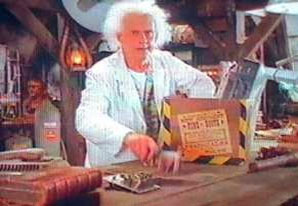 The video encyclopedia was a collection of video files that showed the viewers how to perform an action or create something for scientific value or understanding.
Each of these simple science experiments made use of everyday objects and/or substances that could be found around the home.
Behind the scenes
Each video was accessed by Emmett Brown during the closing live-action segments of each episode of Back to the Future: The Animated Series as a science experiment, performed by Bill Nye. In narration, Doc — portrayed by Christopher Lloyd — explained the principle as Nye silently carried out the experiment.
Appearances
Ad blocker interference detected!
Wikia is a free-to-use site that makes money from advertising. We have a modified experience for viewers using ad blockers

Wikia is not accessible if you've made further modifications. Remove the custom ad blocker rule(s) and the page will load as expected.