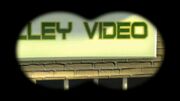 Valley Video was a video rental store in downtown Hill Valley. It sat on a plot of land previously occupied by a speakeasy in 1931. After the speakeasy burned down, the existing structure was rebuilt in February 1932. Valley Video was visible from Edna Strickland's apartment.
Biff Tannen could be seen leaving the store with a rental video in his hands.
Appearances
Ad blocker interference detected!
Wikia is a free-to-use site that makes money from advertising. We have a modified experience for viewers using ad blockers

Wikia is not accessible if you've made further modifications. Remove the custom ad blocker rule(s) and the page will load as expected.