Wookieepedia | Star Wars Fanon | Futurepedia | Darthipedia | Heroes Wiki | Genealogy
Other side of graduate school. Mentioned in acknowledgments of A Matter of Time: The Unauthorized Back to the Future Lexicon and Back in Time: The Unauthorized Back to the Future Chronology, and working to pull info from those to here. Started a new Facebook page for the wiki. Hoping to see more activity.
"With gleeful deliberation, Strickland continued the crunching orgy."
—Referring to Mr. Strickland's love for crushing Walkmans with a vise
Welcome to my mess.
Obviously this is a work in progress but we will prevail. Here lies what are known as "4th dimensional articles". The direction for the articles should be from a historical point of view, with "insider" knowledge about the doings of the Time Machine and all changes created by it. Perhaps the users here can be known as "historians" or "futurists"? You can call me Griffsyphon, but I'll also go by SkywayFlyer, my user name on BTTF.com.
See also w:c:starwars:User:Riffsyphon1024 Stats page Temp page Matter of Time Map User:Riffsyphon1024/Telltale
Alternate histories look interesting, but I'm not sure if I'd want this guy to be my President either.
First original articles: Shonash Ravine, The Pinheads, Terry, John F. Kennedy Drive, the DeLorean Time Machine, Lyon Estates, Hover conversion, Hoverboard, Delgado Mine, Time display, CusCo, California, Skyway
Sources include: the movie trilogy, the animated series, the novelizations, the screenplays, movie sourcebooks, and DVD commentaries, and even the video games. I personally own Back to the Future: The Official Book of the Complete Movie Trilogy, purchased from Universal Studios in 1992. Authors Michael Klastorin and Sally Hibbin. Published 1990. I now personally own the Back to the Future novelization, the Back to the Future Part II novelization, and the Back to the Future Part III novelization and will be scanning them for details and differences of plot.
Update: November 5, 2015: I now own Back to the Future: The Ultimate Visual History by Michael Klastorin with Randal Atamaniuk.
Canon can be broken down as so:
B-canon - Bob Canon, the creators' canon with the movies and screenplays
S-canon - secondary canon not conflicting with B-canon (novelizations, animated series and comics, mostly due to storylines, individual items may be more canonical)
N-canon - non-canon (certain things like the storyline of the Ride but the IFT might be S-canon)
Credit must be given to Keith Gow's work on the BTTF Chronology at his site, http://home.vicnet.net.au/~kwgow/future.html where alot of the minor details were located. Credit to http://www.bigwaste.com/bttf and http://www.BTTFtour.com for sniffing out all the major filming locations.
Could the improved 1985 be considered as 1985-I? Others call it the "Lone Pine Timeline", whereas the original timeline is the "Twin Pine Timeline".
User:Mandymcfly User talk:Mandymcfly
MediaWiki links: MediaWiki:Sitenotice, MediaWiki:Sidenavbar, MediaWiki:Common.js, MediaWiki:Uploadtext
http://www.wikia.com/wiki/Special:Listusers/staff http://www.wikia.com/wiki/Special:Listusers/lookupcontribs
Might be handy: Calculating the day of the week
Even more handy: [1]
TO DO: Figure out how image maps work and apply them here. See [2] ==References== <div class="references-small"><references/></div>
Or just Reflist.
Marty McFly: "Hello? Sorry about your barn."
Sherman Peabody: "He's mutating into human form! Shoot it!"
Otis Peabody: "Take that you mutated son of a bitch!"
— Marty arrives at the ranch
Enjoy the various quoted templates we now have on the wiki.
The <center> code apparently creates a situation in which the </small> codes cannot be removed. Only on [[Portal:2015 Technology]] are the HTML codes gone, because <center> is not being used.
Userboxes
To Do
2007

Add all character articles
Add all locations and objects
Images, Images, Images
Add information from the Animated Series
Consider information from screenplays and drafts
Consider information from comics
Real-life articles need to be created and fleshed out
Decision to be made regarding Animated Series sections in articles versus keeping the sections in-universe

2010
2014
2015
Understanding Why Doc Continued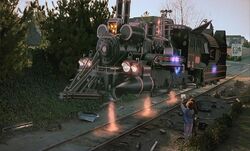 It has always been puzzling to understand why having been so against the creation of another time machine that Doc builds the Jules Verne Train, and according to the animated series, builds another DeLorean with more features, and according to the ride, builds a fleet of DeLoreans that can hold many people. Regardless of the number of vehicles and flux capacitors constructed after the movies, it is within the ten year period from 1885 to 1895 that Doc has a change of heart. Seeing how Marty left him in the past with Clara, at the moment there was no way for him to get back without building another machine and with the parts that existed in 1885. Doc could have sent another letter to the future or stored something away for Marty, but he didn't. Why is this? Perhaps having second thoughts was natural to Doc, after all in the 30 year period between 1955 and 1985, he tapes together the letter that Marty gave him warning him of his inevitable death in 1985 and follows through by wearing a bulletproof vest. But what causes him to change his mind on such a big thing as re-inventing the time machine? Is Clara so persuasive that he would do anything for her, even if meant destroying the space-time continuum all over again? Life is a funny thing. Love is even funnier. And maybe that is why he continued to build time machines and visit the past and the future, for the understanding of science, which was the reason that he and Clara connected in the first place. Either way, he finds out how to make a flux capacitor with parts in 1885 and uses a steam locomotive for the power, apparently this flux capacitor does not need 1.21 gigawatts of electricity anymore, but how much exactly? Another interesting question is how Doc found out which railroad tracks would still be in operation by 2015 so that he could give the train a hover conversion. There are so many little things to ask questions about that will continue to bother me for years to come.
Things that they left behind
Whatever happens of the things that a traveler takes to a year and then discards or forgets about? Does Doc clean up after himself?
Time Marty ages in the trilogy
Oct 25, 1985 8:20 am
Oct 26, 1985 1:35 am (17 hr, 15 minutes)/Nov 5, 1955 6:15 am
Nov 6, 1955
Nov 7, 1955
Nov 8, 1955
Nov 9, 1955
Nov 10, 1955
Nov 11, 1955
Nov 12, 1955 10:04 pm (7 days, 15 hr, 49 minutes)/Oct 26, 1985 1:24 am
Oct 26, 1985 11:00 am (9 hr, 36 minutes)/Oct 21, 2015 4:29 pm
Oct 21, 2015 7:28 pm (2 hr 59 minutes)/Oct 26, 1985A 9:00 pm
Oct 27, 1985A 2:42 am (5 hr 42 minutes)/Nov 12, 1955 6:00 am
Nov 13, 1955
Nov 14, 1955
Nov 15, 1955
Nov 16, 1955 10:00 am (4 days, 4 hr)/Sept 2, 1885 8:00 am
Sept 3, 1885
Sept 4, 1885
Sept 5, 1885
Sept 6, 1885
Sept 7, 1885 9:00 am (5 days, 1 hr)/Oct 27, 1985 11:00 am
Adding all this up results in Marty living through the trilogy up to the moment he returns to the final 1985, 16 days, 44 hrs = 2 days 2 hr --> 18 days, 2 hr, and finally 15 + 49 + 36 + 59 + 42 minutes = 201 minutes or 3 hr 21 minutes, for a grand total of 18 days, 5 hr, 21 minutes.
Geography of Hill Valley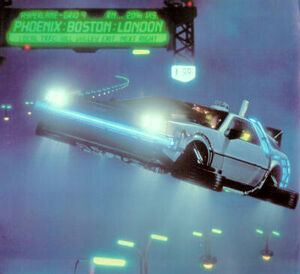 Source: 2015 Courthouse Square map of Hill Valley and surrounding area
Towns
Hill Valley
Local Hover Buses
Express Trams
Sources: Part I
Sources: Part II
Sources: Part III
Sources: Part I novelization
Doc's garage is 10 minutes from Twin Pines Mall on skateboard with no traffic
At corner of square, 2nd and Main, right on Main passed Lou's Cafe
Along edge of square, right turn on 2nd Street, the confluence of U.S. Route 395 West and U.S. Route 295 East, p. 84
Is 2nd also Hill Street?
Page 177 shows Hill Street as being separate from 2nd, does 2nd turn into Hill? Is Hill on the opposite side of the square?
Page 194 shows Doc tying on the cable at the intersection of 2nd and Main

So rather is 2nd the street directly in front of the Courthouse?

Page 198 again shows what would have been Hill or Main as 2nd, along the road that Marty drives up to intersect the cables, but just below on the page it is then stated as Main Street
Page 198 states that the Bank of America was at the end of Main
George' house was on Sycamore Street near 2nd, 2nd must intersect Sycamore
Lorraine's house was also on Sycamore
Cherry Street intersects Main
Marty passes a graveyard on the way back to the starting line on Main
Marty hit forty within a half-block, hit sixty-five by the time he saw Town Square
Terrorists took 2nd Street all the way to Lone Pine Mall
Sources: Part II novelization
Chapel O' Love stated to be in Las Vegas, p. 79
Marty and Doc fly the DeLorean to outside of town and then drive to Jennifer's house in 1985-A p. 113
From Biff's casino, Marty can see the lights of Hill Valley, surrounded by a ring of industry with a hundred smokestacks lit, p. 137
Doc followed Biff east along the main highway out of town, p. 226
Doc had to line up from the south for an approach in the storm. South of their location was town. p. 238
Sources: Part III novelization
Mount Clayton? (canonicity unknown, related to Clara?)

Mountain appears to loom over downtown in 1885, related to Boot Hill or Mount Clayton?
DeLorean buried at side tunnel of mine, main entrance not shown
Marty notices that the tunnel never changes direction or has side outlets

Clara's house was just outside 1885 Hill Valley
The Pohatchee Drive-In was 40 minute drive from downtown Hill Valley in 1955

Named for the Pohatchee Tribe
Location of the cave was 20 miles due east from downtown near the McFly farm
Marty was heading due west towards town as the sun was setting in front of him, p. 55
The McFly farm was 1/3 mile from a stream p. 68 and 14 miles from town, p. 73
Once at the railroad tracks, Marty had 6 miles to walk down the tracks to town, p. 73

This creates a situation in which Marty traveled 6 miles west between the cave and the McFly farm in the novel, however in the movie it is over one ridge and less than a mile

It took Doc's 6 horses a few hours to reach the site of the parked DeLorean p.103

Hill Valley Speedway in 1985, p. 41
Hill Valley Army/Navy Store, p. 20

Where Doc bought a duffle bag full of tools and supplies for the mine

Statler's ranch, p. 24

Ranch of the Statler family where Doc spent a few summers as a boy working, learning how to ride, shoot, and rope
Mr. Statler decided to sell the ranch and get into the used-car business

City Archives

In the basement of Hill Valley City Hall, p. 32
Charlie was the night watchman who shared a passion for the old west and was willing to extend hours if he was allowed to view what was being uncovered
File was Hill Valley: 1880s

Verde Junction

Frank Fargo got a locomotive up to 70 out past Verde Junction, p. 108
Part III First Draft Screenplay [3]
Unknown source:
Elm Street, Biff's first residence (one of the draft scripts)
Brown property had 435 acres (Part I itself?)
Twin Pines/Lone Pine Mall
                      |  |          |___
______________________|  |              |  JCPenney
|                        |              |___________
|    _________________   |                          |
|    |                |  |                          |
|    |                |  |       []                 |
|    |                |  |                          |
|    |                |  |       Parking lot        |
|    |                |  |__________________________|

More phonebook (From McFord)
   * 308 ALTA VIEW DR
   * 4635 ATWOOD
   * BARBIE ST
   * 283 BENTEO AVE
   * 514 BOTHWELL
   * 893 BROAD
   * 818 BROWNING
   * 713 BRYAN AVE
   * BRYAN AVE
   * 1174 CHARLTON
   * 1661 W CRYSTAL, (CENTERVILLE)
   * 403 DIANA LANE
   * 4713 EMIGRATION CYN
   * 855 FAYETTE AVE
   * GREENWOOD
   * HARRISON
   * 2493 HARTFORD
   * 113 HELM
   * 288 HECTOR
   * 927 HILL PLACE
   * 403 HOFFARTH (sic)
   * HOLLYWOOD AVE
   * 4381 KELLY SMUNT
   * KENSINGTON
   * LINCOLN
   * 128 N MAIN
   * 352 N MAIN
   * 550 MAIN
   * 931 MORE
   * 4032 S. NORTH AVE
   * E. PARKWAY
   * 403 PUEBLO
   * S REDWOOD RD
   * 1640 RIVERSIDE
   * 31 ROSE CIRCLE
   * 252 ROSEWOOD AVE
   * N SALT LAKE
   * 200 W SANDY (Doyle M Brown Mdvle 974-M)
   * 247 SHERMAN AVE 
   * 1833 S STATE (David M. Brown)
   * 1912 S. State (Broughton's Auto Mart)
   * 2137 S.W. TEMPLE (Anthony M. Brown
   * 417 W.N. TEMPLE (Albert M. Brown)
   * 1355 THORNTON AVE
   * VALECREST
   * 42 VAN BUREN
   * 687 VICTORY
   * 505 WATERFRONT
   * 392 E. WEST DRIVE
   * WILLIAMS CT
   * WINDSOR
   * WESTMINSTER
   * 2732 WESTMINSTER
   * 140 WILBUR
   * 1632 WILSON
   * 214 E. 2ND
   * 230 E 3RD S
   * 1438 W. 4TH S
   * 1123 W. 8TH SOUTH
   * 1028 SOUTH 21ST E
   * 281 WEST 23RD
   * 2407 E. 33RD
   * 604 EAST 39TH
   * S 23 E
   * S 11 E
   * E. 3RD S.
   * E 39 S
   * 3521 43RD
   * 24 S 315 E
   * 474 K
   * 431 S & E
   * MRS. BREUER'S BAKERY AND CAFÉ

Through Time
Prices and gases on Texaco sign stated as: Fusion Gold $6.95 9/10, Super Fusion Plus+ $7.62 9/10, Liquid Hydrogen $8.10 9/10, Regular Unleaded $8.37 9/10, and Super Unleaded Plus+ $8.99 9/10
Families
Bifficus Antanneny---Lord Biffingham---Buford "Mad Dog" Tannen---"Mugsy" Tannen---Gertrude Tannen---unknown possibly Frank Tannen---Biff Tannen---Biff Jr.---Griff Tannen---grandson Ziff Tannen
Marvin Berry, cousin to Chuck Berry
Harold McFly and Jennivere McFly (medieval England)
       |
Seamus McFly and Maggie McFly (1885) Martin McFly (brother stabbed before 1885) 
                 |                   "Pee Wee" McFly (1891)
         William McFly (c. 1885-1920)
                 |
  Arthur McFly and Sylvia McFly   Sam Baines and Stella Baines(1955)--------------+
            |                     |               |          |   |
    George McFly and -----Lorraine Baines Milton (born 1942) Sally (born 1949) 
                            +--------------+-------------+   Toby (born 1951)
Jennifer Parker and Marty McFly Dave McFly Linda McFly (1985)Joey (born 1954)
                 |        |                                  Baines (born 1956)
 Martin McFly Jr. Marline McFly (2015)
                |?
            Marta (c. 2091)

Wernher von Braun?
      |?
  von Braun                            Unknown Clayton and wife
       |                                       |           |        
 ______|                                       |           |
|                 Ulysses S. Clayton Daniel Clayton and Martha Clayton 
--Sarah Lathrop Abraham Lathrop    Uncle Oliver              |
       |                                                     |
Emmett L. Brown and --------------------------------Clara Clayton
        |        |
   Jules Brown Verne Brown

Individuals and Things
1885
1955
"16 Tons"
The Honeymooners "Man From Space"
Tales From Space, "Space Zombies From Pluto"
Playboy, first issue released later that month
UCLA vs Washington, November 12, 1955, UCLA wins 19-17
Hill Valley Department of Records, stamped on Buford Tannen documents
President Eisenhower (Novel I)
Eddie Fisher (Novel I)
Jerome Kern (Novel I)
Mitch Miller (Novel I)
Guy Mitchell (Novel I)
Big Four (Novel I)
Russians (Novel I)

Rejected U.S. plan to ban nuclear weapons

First Smog Conference in Los Angeles (Novel I)

Officials said smog might keep industry away from cities affected by this
Census watchers predicted that LA would become the 2nd largest metropolitan area in the US in a few years passing Chicago

Quarterback John Brodie, Stanford (Novel I)
Place-kicker Jim Decker, UCLA (Novel I)
Quarterback Jim Swink, Texas Christian (Novel I)
Joan Crawford and Alfred Steele (Novel I)

Celebrating their first half-year of marriage

Jack Webb and Dorothey Towne (Novel I)

Reportedly having marital problems

Northwest Ford (Novel I)

Selling 1956 Ford pickup trucks for $1454

The Chordettes (Novel I)
Patti Page in the land of Hi Fi (Novel I)
Eydie in Dixieland (Novel I)
Unforgetable Songs by Nat 'King' Cole (Novel I)
Roy's Records (Novel I)
Texaco

"Price War 19 1/2 cents/gallon" (Novel I)
Green/silver Sky Chief super gasoline 21.9 cents/gallon (Novel I)
Red regular gasoline 19.9 cents/gallon (Novel I)
Cigarette machine "20 cents a pack for all brands" (Novel I)
Soft drink machine offered Pepsi Cola for 10 cents a bottle

Essex Theater
Bank of America
J.D. Armstrong's realty office (Novel I)

Next to Mr. Foster on 2nd
Advertised Lyon Estates
A 3 bed, 2 car garage home with "totally electric kitchen" cost $17,500
Also advertised bomb shelters at reasonable prices

Zale's Jewelers

Existing in 1955 as well as 1985
Next to Armstrong's on 2nd

Hill Valley Stationery Shop (Novel I)

Next to Zale's on 2nd
Next to shop was barber offering haircuts at 75 cents (Novel I)

Bluebird Motel

Stated to be along 2nd Street in downtown however in the movie is shown to be a good mile or two down 2nd
Rooms for five dollars (Novel I)

Western Auto
Ruth's Frock Shop

Next to Western Auto on 2nd
Sold dresses from Paris for 40 dollars (Novel I)

Statler Studebaker

Marty found that any of the clunkers worth be worth a fortune in 1985 (Novel I)
Ranged from $395 to $950 (Novel I)

Town Theatre
Lou's Cafe

Served Rice Krispies
Hamburger 25 cents, Ham and Cheese 30 cents, Chocolate Sundae 15 cents (Novel I)

Sir Walter Randolph (Novel I)

Ran a commercial of a doctor smoking their product after three consecutive lung operations
"I know that the fine tobacco taste will soothe my nerves and improve my circulation."
Marty had never seen a cigarette commercial and was amazed at its brazenness
Marty stated it was immoral to have a doctor selling the product and that it caused lung cancer, however that was not proven in 1955

This might have stopped Lorraine from smoking in the future
The movie encountered this problem when they parked

Peter Danforth, Evan Wentworth Jr. and Melvin Petrucci
Brooklyn Bums

Baseball team during the 1950s that Doc rooted for

3-D movie (Novel I)
Hi-fidelity music (Novel I)
Frank Sinatra (Novel I)
Instant coffee (Novel I)
Pat Boone (Novel I)
It's A Wonderful Life (Novel I)
Vaseline hair tonic (Novel I)

Doc said it was very fashionable but when asked by Marty why he didn't use it he replied that it was very flammable

Japan

Doc was amazed that the devices were made there, just a decade after WWII

Cadillac (Novel I)
Doc's Packard Clipper (Novel I)
Rocky Marciano (Novel I)
Hill Valley Airport (Novel I)

Had a weather station that reported the forecast of a thundershower, though the radio announcer felt it was awfully late in the year for that (boy was he wrong)
Weather reported in conjunction with the United States Weather Service for Hill Valley on Saturday evening was cold and clear with a low reaching 45

Bill Sharp (Novel I)
Three Coins in the Fountain (Novel I)
Davey Jones, the name of a locker made up for the dance
1985
(Or before)
Tab (Novel I)
Sweet 'n' Low (Novel I)

"Artificial sugar substitute with no calories"

Baseball teams in 1985 and prior (Novel I)
Football teams in 1985 (Novel I)
MTV (Novel I)
Compact disc (Novel I)
Birth control (Novel I)
Elvis, known since late 1950s, died 1977 (Novel I)
The Twilight Zone (Novel I)

Doc finding Marty's usage of "must be in the twilight zone" as peculiar "in a zone of twilight, neither here nor there, a middle ground, between light and shadow, between things and ideas..."
Marty replies "Yeah I know, there's a signpost up ahead, you've just crossed over--"
Marty later uses it as a reference to scare George

Other references made from George's encounter with "Darth Vader"

Vulcan, Klingon, Outer Limits, Close Encounters of the Third Kind, Battlestar Galactica (Novel I)
Van Halen (brain-melting sonic torture), hair dryer (death ray gun), chloroform

Muhammad Ali (Novel I)
1985-A
2015
"McCry! McCry. I just monitored that scan you interfaced. You are terminated! And you cooperated. Read my fax."
—The Jitz
"Oh mom, you sure know how to hydrate a good pizza."
—Marty
Real World
Filming locations:
Minute Details
---
All rights reserved. Back to the Future™ is a trademark of Universal City Studios, Inc. and Amblin Entertainment, Inc.