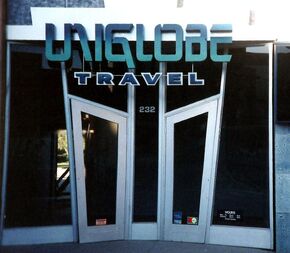 Uniglobe Travel was a travel agency located in Courthouse Square in downtown Hill Valley in 2015.
Advertisements for travel to Vietnam ("Surf Vietnam"), like those for vacations in Cuba (as seen in the Ask Mr. Foster agency in 1955) , also refer to what would have been, in 1985, unlikely travel destinations.
Appearances
Ad blocker interference detected!
Wikia is a free-to-use site that makes money from advertising. We have a modified experience for viewers using ad blockers

Wikia is not accessible if you've made further modifications. Remove the custom ad blocker rule(s) and the page will load as expected.