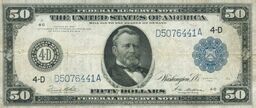 Ulysses S. Grant (April 27, 1822 – July 23, 1885) was the 18th President of the United States. He rose to the rank of Commanding General during the American Civil War, under President Abraham Lincoln. He was elected President of the United States in 1868, succeeding Andrew Johnson. Grant was added to United States currency in 1913, on the fifty $50 bill.
When he traveled back to November 12, 1955, Doc Brown had several $50 bills adorned with Ulysses S. Grant's portrait in his money suitcase.
In 1931, when Marty McFly discovered how the password system at El Kid worked, one of the answers he gave to a question by Matches was "Ulysses S. Grant".
In 1876, Beauregard Tannen expressed confusion, due to Edna Strickland talking about time court, by stating "what in Ulysses S. Grant is she talking about?".
Appearances
External link
Ad blocker interference detected!
Wikia is a free-to-use site that makes money from advertising. We have a modified experience for viewers using ad blockers

Wikia is not accessible if you've made further modifications. Remove the custom ad blocker rule(s) and the page will load as expected.