Ad blocker interference detected!
Wikia is a free-to-use site that makes money from advertising. We have a modified experience for viewers using ad blockers

Wikia is not accessible if you've made further modifications. Remove the custom ad blocker rule(s) and the page will load as expected.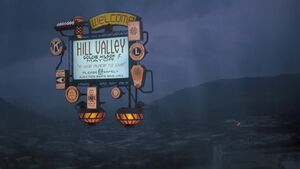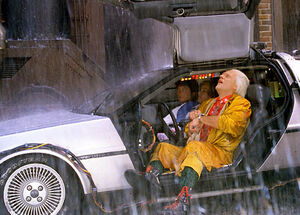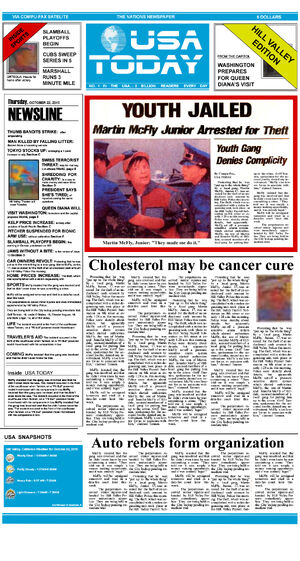 "Doc flipped off half a dozen switches [on the dashboard of the DeLorean time machine]. / 'First,' he told Marty, 'you're going to have to get out and change clothes.' / 'Doc!' Marty pointed at the ongoing flood on the other side of the windshield. 'It's pouring rain!' / 'Oh, right.' / Doc glanced at his watch. / 'Wait three more seconds.' / The rain stopped. Doc's head bobbed with satisfaction. / 'Right on the tick.' He glanced wistfully up at the sky. 'Too bad the post office isn't as efficient as the weather service.' "
—From Back to the Future Part II by Craig Shaw Gardner (quote, page 17)
The U.S. Weather Service reported the weather forecasts in conjunction with Hill Valley Airport's weather station in 1955[1], and by 2015 was controlling the weather.
In 2015, the weather appeared to be planned in advance, and was controlled by the weather service in the Hill Valley, California area — although its range, the extent of what kind of weather it controlled, and the technology it used (which was presumably regulated by both scientists and technicians) is unknown.
History
The U.S. Weather Service was controlling rain on the afternoon of October 21, 2015, with the floating skyway sign at the Hill Valley exit ramp on Skyway C25 warning drivers of "RN... [Rain] 20% VIS [Visibility]".
Emmett Brown knew when the storm would end, suggesting that the service was planned, rather than merely forecast. It was extremely accurate, and Doc mentioned that it was more efficient than the Post Office — though it remains unclear as to whether he was joking.
It's also possible that Doc, having previously been in downtown Hill Valley at that time, knew specifically when it had stopped raining. If so, it would be the reverse of when Marty had provided Doc in 1955 with the Clock Tower flyer that showed the specific time and place that a lightning bolt would strike.
According to the front page of the October 22, 2015 issue of USA Today, that morning's scheduled weather for the Hill Valley, California area (shown, along with the appropriate weather symbols, on a blue box-out in the bottom left-hand corner) was as follows:
Mostly Clear — 12:00 AM - 1:36 AM
Partly Cloudy — 1:37 AM - 6:36 AM
Heavy Rain — 6:37 AM - 7:23 AM
Light Showers — 7:24 AM - 7:29 AM
Actuality
Although it is possible for scientists to manipulate or alter weather conditions, we're still a long way from having organizations like the U.S. Weather Service mentioned in Back to the Future Part II that are able to both control and schedule weather.
Appearances
References
See also