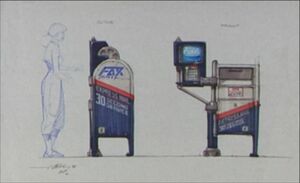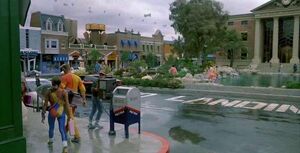 "Right on the tick. If only the Post Office was as efficient as the Weather Service!"
—Dr. Emmett Brown, after his prediction as to when the scheduled rain showers will end proves accurate
The U.S. Mail — or the United States Postal Service — was the official system in the United States of America of carrying and delivering letters and parcels.
In 2015, the U.S. Mail also ran a fax service called Pac Fax, where public mailboxes had fax machines built in so that people could send faxes while on the move. One such mailbox was present in Courthouse Square, Hill Valley and advertised a ".05 Second Service".
According to Emmett Brown, the U.S. Weather Service was more efficient than the Post Office. It is unclear whether Doc was joking.
Appearances
See also
External links
Ad blocker interference detected!
Wikia is a free-to-use site that makes money from advertising. We have a modified experience for viewers using ad blockers

Wikia is not accessible if you've made further modifications. Remove the custom ad blocker rule(s) and the page will load as expected.