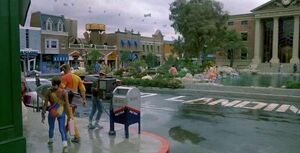 The U.S. Mail — or the United States Postal Service — was the official system in the United States of America of carrying and delivering letters and parcels.
History
In 2015, the U.S. Mail also ran a fax service called Pac Fax, where public mailboxes had fax machines built in so that people could send faxes while on the move. One such mailbox was present in Courthouse Square, Hill Valley and advertised a ".05 Second Service".
According to Emmett Brown, the U.S. Weather Service was more efficient than the Post Office. It is unclear whether Doc was joking.
Appearances
See also