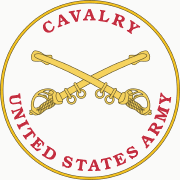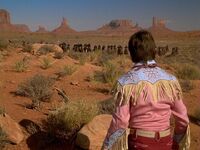 "Shit, it's the Cavalry!"
—Marty
The U.S. Cavalry was the mounted reconnaissance, surveillance, and target acquisition branch of the United States Army. They rode their horses, to monitor the territory surrounding Hill Valley, in 1885.
On September 2, the cavalry began a chase of Pohatchee Indians, which ran into the DeLorean time machine. They chased the Pohatchee past the bear cave and continued after them as Marty McFly watched from the safety of the cave.
Appearances
See also
Ad blocker interference detected!
Wikia is a free-to-use site that makes money from advertising. We have a modified experience for viewers using ad blockers

Wikia is not accessible if you've made further modifications. Remove the custom ad blocker rule(s) and the page will load as expected.