Ad blocker interference detected!
Wikia is a free-to-use site that makes money from advertising. We have a modified experience for viewers using ad blockers

Wikia is not accessible if you've made further modifications. Remove the custom ad blocker rule(s) and the page will load as expected.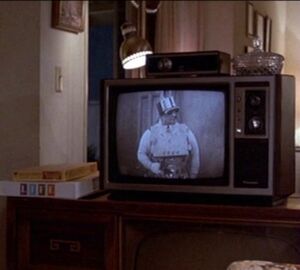 "Now we can watch Jackie Gleason while we eat!"
—Sam Baines
"The commercial break was over and The Honeymooners began. Marty recognized the segment immediately as the classic "Man from Space" episode. Almost without realizing he was doing it, he began saying the show's lines a split second before the actors said them. Everyone at the table regarded him with varying degrees of amazement. Lorraine laughed every time he did it; her father scowled. / "How come you know the lines?" Milton asked. / "Because I've seen this one before," he replied. / "What do you mean, you've seen it?" Milton asked. "It's brand new." / "I saw it on a rerun." / "What's a rerun?" / "You'll find out." / "O.K., smarty," Milton persisted. "Tell me what happens next." / "Sure," Marty said. "This is a good one. Ralph dresses up as a 'man from space.' " / "Quiet!" Sam ordered. I want to see this!" "
—From Back to the Future by George Gipe (quote, page 108)
The Honeymooners was a television show that starred Jackie Gleason, Audrey Meadows, Art Carney and Joyce Randolph.
Marty McFly was watching a rerun of the show with his family on October 25, 1985, the night before he traveled back in time. When he had dinner with his mother's family on November 5, 1955, the family was watching the very same episode, although it was new.
Behind the scenes
As many fans of The Honeymooners have pointed out since the release of Back to the Future, the clip that is shown in the film is from an episode called "The Man From Space". Devotees who knew the precise airdates of each show were quick to point out, as early as 1985, the "mistake", in that the episode was not telecast until December 31, 1955. Most filmgoers never noticed.
The Honeymooners was an obvious choice for a show that was telecast in 1955, that aired on Saturday night, that was still being watched in reruns in 1985, and that was familiar even to viewers who weren't fans.
The selection of "The Man in Space" was consistent with the rest of the film. When Marty had arrived in 1955, wearing a radiation suit, he had been mistaken for a man from space by the terrified Peabody family.
The episode that was actually shown on November 5, 1955 was "The Sleepwalker".
Appearances
External links