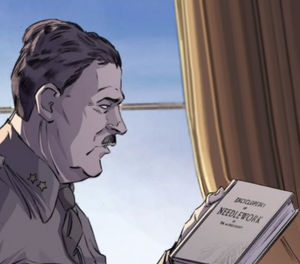 Thérèse de Dillmont was an Austrian needleworker and writer. Her book, Encyclopedia of Needlework, was translated into many different languages.
In 1943, Leslie Groves found the Encyclopedia of Needlework on a table at the home that Emmett Brown was pretending was his own. When Groves asked Brown if he was a fan of needlework, Doctor Brown responded by stating that he believed that anything could inspire a breakthrough, and that he didn't like to discount anything. Vannevar Bush appreciated that answer, which helped lead to Doc Brown getting a job working on the Manhattan Project, despite the fact that the men were aware that the interview did not actually take place at Emmett's residence.
Appearances
Ad blocker interference detected!
Wikia is a free-to-use site that makes money from advertising. We have a modified experience for viewers using ad blockers

Wikia is not accessible if you've made further modifications. Remove the custom ad blocker rule(s) and the page will load as expected.