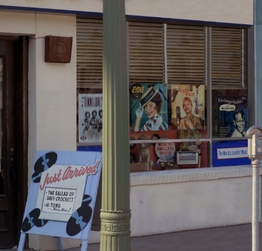 Ernest Jennings Ford, known professionally as Tennessee Ernie Ford, was an American recording artist and television host.
When Marty McFly first arrived at Courthouse Square in Hill Valley in 1955, Roy's Records was advertising the arrival of two Tennessee Ernie Ford songs, The Ballad of Davy Crockett and 16 Tons.
Appearances
External links
Ad blocker interference detected!
Wikia is a free-to-use site that makes money from advertising. We have a modified experience for viewers using ad blockers

Wikia is not accessible if you've made further modifications. Remove the custom ad blocker rule(s) and the page will load as expected.