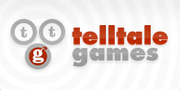 Telltale Games is an American video game developer best known for episodic series and digital distribution. It was the developer and publisher of Back to the Future: The Game in 2010-2011. After the release of the game, Back to the Future: The Game was Telltale's best-selling game series until the release of The Walking Dead.[1]
On November 15, 2010, to promote Back to the Future: The Game, Telltale Games published Mediatonic's Back to the Future: Blitz Through Time, a free Flash match three puzzle game similar to Bejeweled Blitz.
On October 13, 2015, in celebration of the 30th anniversary of the release of the first Back to the Future film, Telltale Games released Back to the Future: The Game - 30th Anniversary Edition, a remaster of the original game with new textures and featuring the voice of Thomas F. Wilson as Biff Tannen.
On May 25, 2016, IDW Publishing began issuing Back to the Future: Citizen Brown, their comic book adaptation of Back to the Future: The Game.
Notes and references
See also
Ad blocker interference detected!
Wikia is a free-to-use site that makes money from advertising. We have a modified experience for viewers using ad blockers

Wikia is not accessible if you've made further modifications. Remove the custom ad blocker rule(s) and the page will load as expected.