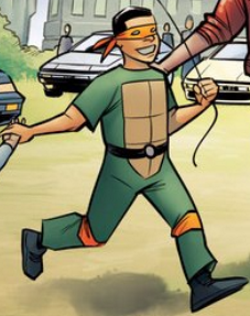 The Teenage Mutant Ninja Turtles are four fictional anthropomorphic turtles that are trained in martial arts. They made their debut in comics in 1984, and have since been in several television shows, films, and video games.
History
When Emmett Brown traveled to August 8, 2015, he saw many people with 1980s memorabilia at the Hill Valley 1980s Car Expo. One boy wore a Teenage Mutant Ninja Turtles costume.
After gaining recognition for his money tree, Jules considered himself to be more popular than the Ninja Turtles.
Wanting to have a cooler name, Verne traveled back to some unspecified year in the 1800s to convince Jules Verne to change his name. One name he proposed was Raphael.
Reference to Back to the Future
BTTF actors in Teenage Mutant Ninja Turtles
Appearances
External links
Ad blocker interference detected!
Wikia is a free-to-use site that makes money from advertising. We have a modified experience for viewers using ad blockers

Wikia is not accessible if you've made further modifications. Remove the custom ad blocker rule(s) and the page will load as expected.