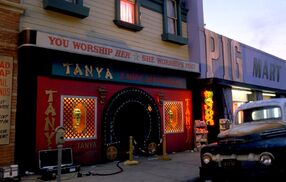 "You Worship Her, She Worships You!"
—Tagline
Tanya's was a prostitution house in 1985A that sat on the site of the Goodwill Industries and former site of Ruth's Frock Shop. The signs on the building indicated that Tanya was an "exotic sex goddess".
Appearances
Ad blocker interference detected!
Wikia is a free-to-use site that makes money from advertising. We have a modified experience for viewers using ad blockers

Wikia is not accessible if you've made further modifications. Remove the custom ad blocker rule(s) and the page will load as expected.