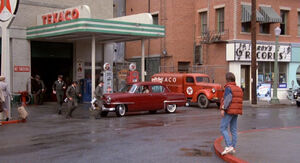 A tank truck (also sometimes referred to as tanker truck) was a motor vehicle used by a fuel company to transport and deliver gasoline to service stations.
History
A Ford F-5 tank truck was owned by Texaco, and was present at the Texaco service station in Courthouse Square, Hill Valley in 1955.
The tank truck was a small red one with the Texaco star logo on the doors of the cab, and the name TEXACO in large white letters along the sides of the tank itself.
Appearances
See also
Ad blocker interference detected!
Wikia is a free-to-use site that makes money from advertising. We have a modified experience for viewers using ad blockers

Wikia is not accessible if you've made further modifications. Remove the custom ad blocker rule(s) and the page will load as expected.