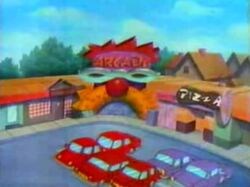 Super Mega Arcade World was an arcade which was located in a shopping plaza in Hill Valley in 1992. Verne Brown often played video games here. The owner of the arcade was named Leo.
After Marty McFly, Jules Brown and Doc calm Verne of his video game addiction, Clara became interested in video games, and began playing the arcade games here herself.
Appearances
Ad blocker interference detected!
Wikia is a free-to-use site that makes money from advertising. We have a modified experience for viewers using ad blockers

Wikia is not accessible if you've made further modifications. Remove the custom ad blocker rule(s) and the page will load as expected.