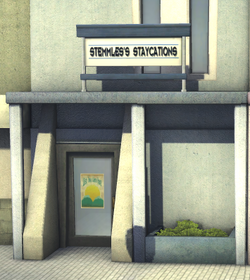 Stemmles's Staycations was a business active in an alternate 1986. It was located between All Citizen's Bank and the Citizen Reading Room.
History
Prior to the development of Stemmles's Staycations, the location was occupied by the Law Offices of Gale, Zemeckis, & Fine in 1931.
Behind the Scenes
The building is named after Michael Stemmle, who was the co-writer and co-designer of Back to the Future: The Game.
Appearances
Ad blocker interference detected!
Wikia is a free-to-use site that makes money from advertising. We have a modified experience for viewers using ad blockers

Wikia is not accessible if you've made further modifications. Remove the custom ad blocker rule(s) and the page will load as expected.