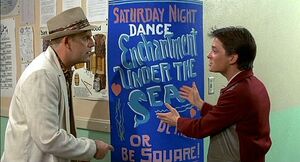 Square was a slang term used in 1955 to describe someone who was untrendy or 'not with it'.
History
The term appeared on the poster for the Enchantment Under the Sea dance seen by Emmett Brown and Marty McFly at Hill Valley High School on November 12, which urged students to "Be There... or Be Square!"
After Marty told Lorraine it's not right to drink, Lorraine said, "Marty, don't be such a square. Everybody who's anybody drinks."
Appearances
See also