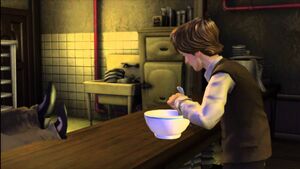 Soup is a primarily liquid food. It is generally served warm, but can be cool or cold. It is made by combining ingredients such as meat and vegetables with meat or vegetable stock, juice, water, or another liquid.
In 1931, the Sisters of Mercy Soup Kitchen gave soup to the underprivileged of Hill Valley. Edna Strickland made soup deliveries for the soup kitchen on her bicycle. Later that year, the gangster Kid Tannen took the soup kitchen over and used it as a front for the hidden speakeasy, El Kid, hidden in the basement.
In 1986A, the Sisters of Mercy Soup Kitchen was replaced with SoupMo, which promoted nutritional meals, although the food was lacking in taste. It sold a cup of "Soup du Jour".
In 2015, activists led by J. Williams wanted to ban alphabet soup. The soup contained pasta cut into letters, and those letters could be used to spell out profanities.
Appearances
External links
Ad blocker interference detected!
Wikia is a free-to-use site that makes money from advertising. We have a modified experience for viewers using ad blockers

Wikia is not accessible if you've made further modifications. Remove the custom ad blocker rule(s) and the page will load as expected.