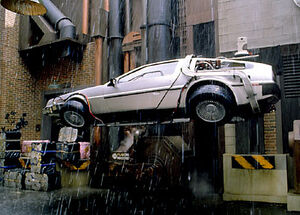 Shredding was a method used in 2015 to recycle paper, as well as being "a way to make money and save trees", according to the October 22, 2015 issue of USA Today.
An article titled SHREDDING FOR CHARITY was billed in the Newsline column on the front page of that day's issue of USA Today as appearing in Section D.
Large packs of shredded paper could be seen in the alleyway where Emmett Brown landed the DeLorean time machine.
Shredding has absolutely nothing to do with the 2015 term 'shred', used in phrases such as "Shred that".
Appearances
Ad blocker interference detected!
Wikia is a free-to-use site that makes money from advertising. We have a modified experience for viewers using ad blockers

Wikia is not accessible if you've made further modifications. Remove the custom ad blocker rule(s) and the page will load as expected.