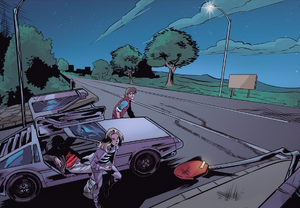 A STOP sign was a red octagonal traffic sign notifying drivers that they had to stop and give way to other traffic before proceeding.
On March 3, 1986, Emmett Brown — who had amnesia due to having been subjected to Officer Griff Tannen's bionic implant disabling device in 2035 — crashed his steam time car into a sign of this kind at a T-junction in Hill Valley, leaving the post buckled and the sign knocked down.
The towing service Lee Bros. Towing & Repair towed the steam time car to their yard, believing it had been abandoned, leaving a company flyer — which was found by Doc, Marty and Jennifer — attached to the STOP sign (with what appeared to be a piece of chewing gum) to let the owner know where the vehicle was towed.
Appearances
See also
External links
Ad blocker interference detected!
Wikia is a free-to-use site that makes money from advertising. We have a modified experience for viewers using ad blockers

Wikia is not accessible if you've made further modifications. Remove the custom ad blocker rule(s) and the page will load as expected.