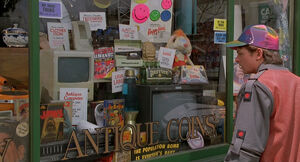 Roger Rabbit is a fictional character who originated in the 1981 novel Who Censored Roger Rabbit, which was adapted in the 1988 film Who Framed Roger Rabbit.
History
By October 21, 2015, a Roger Rabbit doll could be seen in the display window of the Blast from the Past memorabilia/antique store as Marty McFly went to buy the Grays Sports Almanac.
Being from 1985, Marty would not have recognized the character as, in his timeline, Who Framed Roger Rabbit was still three years away.
Behind the scenes
BTTF cast & crew members involved Roger Rabbit
The movie Who Framed Roger Rabbit was directed by Robert Zemeckis. It was edited by Arthur Schmidt, with music composed by Alan Silvestri. The following cast members had the following roles in the film:
Other connections to Roger Rabbit
External link
Ad blocker interference detected!
Wikia is a free-to-use site that makes money from advertising. We have a modified experience for viewers using ad blockers

Wikia is not accessible if you've made further modifications. Remove the custom ad blocker rule(s) and the page will load as expected.