"Doc, devi prendere più rincorsa. Non abbiamo abbastanza strada per arrivare a 88."
—Marty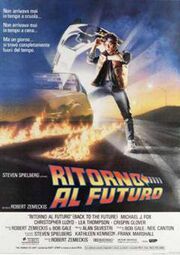 "Strade? Dove stiamo andando, non c'è bisogno di... strade."
—Doc
Ritorno al futuro is the Italian-dubbed version of Back to the Future. Following the redubbing of dialogue by Italian actors, the film was released in Italy on October 18, 1985. Back to the Future proved to be very popular in Italy, so much that the producers of another film with Michael J. Fox, Teen Wolf, in addition to the Italian dubs renamed the main character of Scott to "Marty" to help associate fans of Fox and Back to the Future with it.
Cast
Script
Differences between the Italian script, which can be found at www.outatime.it, and the original include:
Ad blocker interference detected!
Wikia is a free-to-use site that makes money from advertising. We have a modified experience for viewers using ad blockers

Wikia is not accessible if you've made further modifications. Remove the custom ad blocker rule(s) and the page will load as expected.