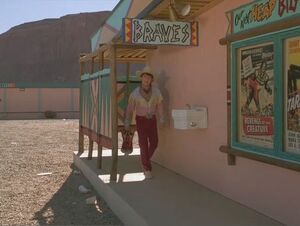 Marty: "Clint Eastwood never wore anything like this."
Doc: "Clint who?"
Marty: "That's right. You've never heard of him."
— Marty after trying on new clothes with the poster behind him.
Revenge of the Creature was a monster and horror film released in 1955, and was the first of two sequels to Creature from the Black Lagoon (1954); the other being The Creature Walks Among Us (1956). It was played at the Pohatchee Drive-In Theater.
Unknown at the time, it was the first appearance of Clint Eastwood. Ironically, Marty McFly would use his name as his alias in 1885.
Appearances
Ad blocker interference detected!
Wikia is a free-to-use site that makes money from advertising. We have a modified experience for viewers using ad blockers

Wikia is not accessible if you've made further modifications. Remove the custom ad blocker rule(s) and the page will load as expected.