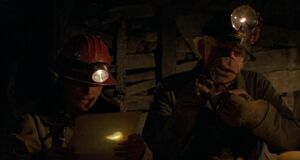 "He [Doc] opened the door on the driver's side [of the DeLorean] and lifted his lantern to look inside. / 'Look! Another letter!' / He pulled the yellowed envelope from the car for Marty to see. Written on the paper, in Doc's bold handwriting, were the words / REPAIR INSTRUCTIONS."
—From Back to the Future Part III by Craig Shaw Gardner (quote, page 20)
Repair instructions were written by Emmett Brown, along with his letter, after he became stranded in 1885 when the DeLorean time machine was struck by lightning on the night of November 12, 1955. The instructions were put into an envelope and placed inside the DeLorean by Doc before it was hidden in the Delgado Mine.
When Marty McFly and Doc's younger self uncovered the DeLorean on November 14, 1955, the instructions enabled them to restore the car to working order using 1955 components to replace the burnt-out time circuit control microchip, so that Marty would be able to return to 1985.
Although Doc had instructed Marty in his letter to go straight back to 1985 and destroy the time machine, Marty vowed to disregard Doc's wishes after the pair discovered Doc's tombstone in the Boot Hill Cemetery, and instead travel back to 1885 to save Doc from being "shot in the back by Buford Tannen over a matter of 80 dollars" — to quote the inscription on the tombstone.
Appearances
Ad blocker interference detected!
Wikia is a free-to-use site that makes money from advertising. We have a modified experience for viewers using ad blockers

Wikia is not accessible if you've made further modifications. Remove the custom ad blocker rule(s) and the page will load as expected.