Radio
Talk

0
1,622pages on
this wiki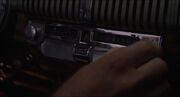 Radios were a common technology by 1955. Even with the recent advent of television, radios remained a staple of entertainment and information well into the 21st century.
Types of radios varied over the years, from a large cabinet type found in Doc's garage and the "world's smallest radio" (by 1955 standards) sold at Roy's Records, to the small combination radio and clock in Marty's bedroom. In 1955, Biff Tannen's Ford Super De Luxe came with a radio that he tuned to KKHV for music and sports. Biff from 2015 tuned to the UCLA vs. Washington game to prove the validity of the Grays Sports Almanac. In Needles' truck, "The Power of Love" played on the radio. Marty McFly listened to the radio in the DeLorean time machine when first entering 1955.[1]
On of the exhibits of the 1931 Hill Valley Science Exposition was a picture radio (which can be liken to a television set).
Behind the scenes
Edit
Radios feature prominently in both 1955 and 1985 in the film trilogy.
Appearances
Edit
References
Edit