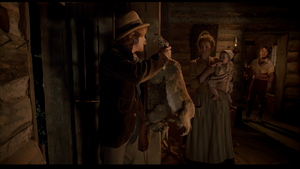 "Maggie! I've got supper."
—Seamus McFly
Two rabbits were the supper of Seamus McFly and Maggie McFly during Marty McFly's brief stay with them in 1885.
On September 2, 1885, Seamus went hunting after rescuing "Clint Eastwood", who was found lying in an unconscious heap by their fence after a bear chase.
Seamus later returned to the farm with two rabbits that he had shot with his rifle.
Marty was later seen eating his share of the rabbit and spitting out two pieces of buckshot, which had inadvertently been cooked with the rabbit.
When Marty was looking in the window in 2015 at the Blast from the Past antique/memorabilia store, the display included a stuffed Roger Rabbit toy. Marty, who had arrived from 1985, had not yet seen the 1988 film Who Framed Roger Rabbit.
Behind the scenes
An outtake seen on the Back To The Future Trilogy DVD shows Seamus holding a giant stuffed Roger Rabbit toy instead of the actual two rabbits as indicated in the script.
Appearances