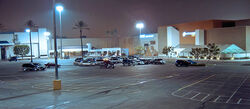 The Puente Hills Mall in the City of Industry, California was the filming location of Twin Pines Mall. The filmed parking lot was on the southeastern side of the mall and the camera shooting the parking lot from the sign would have been facing north.
External links
Ad blocker interference detected!
Wikia is a free-to-use site that makes money from advertising. We have a modified experience for viewers using ad blockers

Wikia is not accessible if you've made further modifications. Remove the custom ad blocker rule(s) and the page will load as expected.