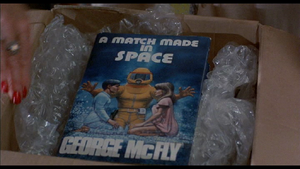 Probert Publishing[1] was a book publishing company in 1985.
It published what would become George McFly's bestselling novel, A Match Made in Space, in the altered and improved present where Marty McFly returned after his trip to 1955 in Emmett Brown's DeLorean time machine.
Appearances
References
↑ According to the replica book cover of A Match Made in Space on La La Land Studios' Back to the Future page (see 'External links' below).
See also
External links
Ad blocker interference detected!
Wikia is a free-to-use site that makes money from advertising. We have a modified experience for viewers using ad blockers

Wikia is not accessible if you've made further modifications. Remove the custom ad blocker rule(s) and the page will load as expected.