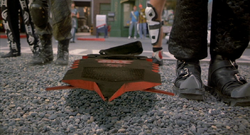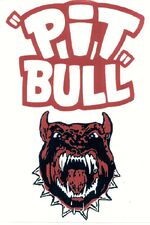 "Keep it! I got a Pit Bull now!"
—Girl to Marty when he attempted to give it back to her
The Pit Bull was a model of rocket-powered hoverboard that was used to make extremely fast trips.
Unlike most other hoverboards which had to be pushed with one foot on or near the ground, its two directable rockets provided enough power for travel over water. It also had three tow cables that allowed additional hoverboarders to be towed behind the main unit.
Griff Tannen was a known owner of one, but after his arrest it came into the possession of a little girl, who in turn let Marty McFly keep her Mattel hoverboard.
Appearances
Ad blocker interference detected!
Wikia is a free-to-use site that makes money from advertising. We have a modified experience for viewers using ad blockers

Wikia is not accessible if you've made further modifications. Remove the custom ad blocker rule(s) and the page will load as expected.