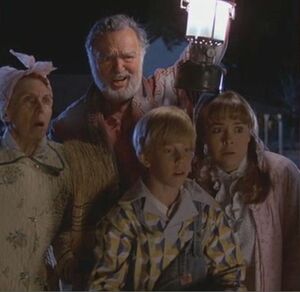 The Peabody family was a family that resided on Twin Pines Ranch in the countryside outside Hill Valley in 1955.
Family members included:
Just hours before Marty McFly crashed into their barn, they had been discussing purchasing a new battery for their car from Sears and Martha and Sherman wanted a television set.[1]
Appearances
References
Ad blocker interference detected!
Wikia is a free-to-use site that makes money from advertising. We have a modified experience for viewers using ad blockers

Wikia is not accessible if you've made further modifications. Remove the custom ad blocker rule(s) and the page will load as expected.