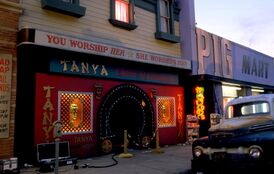 PIG Mart was a store in 1985A located in Courthouse Square, located adjacent to Tanya's. It was at the site of Statler Toyota. This store sold adult books and "love tools".
Behind the scenes
The elaborate set for Courthouse Square in the 1985A "Biffhorrific" timeline is visible on screen for only 60 seconds in Part II, between the time Marty steps across the remains of the welcome sign, and notices the Biff Tannen Museum. Many of the details were not evident in the film, but a set of photos on the Blu-ray edition of the trilogy show the store as being adjacent to the Tanya's prostitution house.
Appearances
Ad blocker interference detected!
Wikia is a free-to-use site that makes money from advertising. We have a modified experience for viewers using ad blockers

Wikia is not accessible if you've made further modifications. Remove the custom ad blocker rule(s) and the page will load as expected.