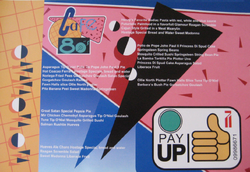 Oliver North was a staff member of the National Security Council. He diverted proceeds from the illegal sale of weapons by the United States to Iran, which occurred to encourage Iran to release American hostages, to support the Contra rebel groups in Nicaragua. This scandal was known as the Iran-Contra Affair.
In exchange for his testimony, in a similar agreement given to the secretary who shredded the documents related to the Iran-Contra affair, Oliver North was granted immunity for his testimony.
In 2015, the Cafe 80s had an item on the menu named the "Ollie North Platter", which sold for "6$".
Appearances
External links
Ad blocker interference detected!
Wikia is a free-to-use site that makes money from advertising. We have a modified experience for viewers using ad blockers

Wikia is not accessible if you've made further modifications. Remove the custom ad blocker rule(s) and the page will load as expected.