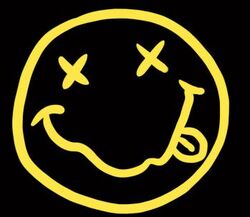 Nirvana was a rock band that was formed in 1987 and disbanded in 1994 after the death of the lead singer, Kurt Cobain.
In 2015, Emmett Brown went into the Blast from the Past antique shop to try to find out the value of the items that he owned in 1985. While there, he saw a poster of the Nirvana logo.
Appearances
See also
Ad blocker interference detected!
Wikia is a free-to-use site that makes money from advertising. We have a modified experience for viewers using ad blockers

Wikia is not accessible if you've made further modifications. Remove the custom ad blocker rule(s) and the page will load as expected.