Nintendo is a company that started out in Japan selling cards known as hanafuda in September 23, 1889 and would later develop into a video game company.
Nintendo has released many games, notably in house titles like Super Mario Bros, The Legend of Zelda, Metroid, Kid Icarus, Ice Climbers, as well as some games that could be played with a gun accessory known as a Zapper. Games that could be played with it included Duck Hunt, Hogan's Alley and Wild Gunman.
They also distributed game(s) produced by other companies including LJN and Telltale Games.
References to Nintendo in Back to the Future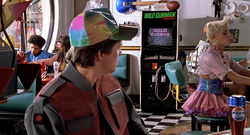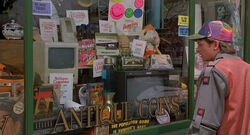 Back to the Future games released on Nintendo platforms
Gallery
BTTF actors in Nintendo productions
External links
Ad blocker interference detected!
Wikia is a free-to-use site that makes money from advertising. We have a modified experience for viewers using ad blockers

Wikia is not accessible if you've made further modifications. Remove the custom ad blocker rule(s) and the page will load as expected.