Needles' gang
Talk

0
1,654pages on
this wiki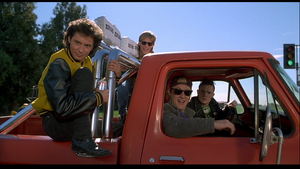 Needles' gang
was a gang led by
Douglas J. Needles
in
1985
. On
October 27
, the gang rolled up to
Marty McFly
and
Jennifer Parker
in Marty's
Toyota Hilux 4X4
and dared him to
drag race
against them. As they sped off, Marty drove in reverse and watched as Needles' truck nearly collided with a
Rolls-Royce
. By electing not to race against Needles, Marty averted an event that had been ruinous in another timeline.
Behind the scenes
Each of the three actors who accompanied Needles had each portrayed a henchman in another era during each of Marty's travels in time:
In contrast to the thugs in any gang led by a Tannen, Douglas Needles and his cohorts appear to confine themselves to insults.
Appearances