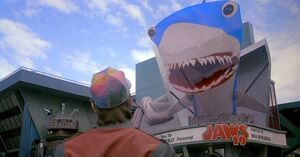 A movie theater is a venue, usually a building, where movies are shown on a large screen.
Movie theaters in Hill Valley were the Essex Theater, the Town Theater and the Pohatchee Drive-In Theater in 1955; and the Holomax Theater (a renovated version of the Essex Theater) in 2015.
In 1985, the Town Theater had become the gathering place for the Assembly of Christ church, while the Essex Theater had become an X-rated movie house.
Appearances
Ad blocker interference detected!
Wikia is a free-to-use site that makes money from advertising. We have a modified experience for viewers using ad blockers

Wikia is not accessible if you've made further modifications. Remove the custom ad blocker rule(s) and the page will load as expected.