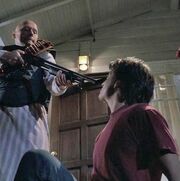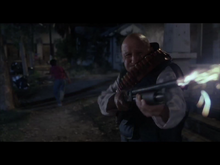 "Eat lead, slackers!"
—Strickland
A Mossberg 500 was used by Mr. Strickland in 1985A to protect his property from newspaper thieves and drive-by shootings. It consisted of a pump-action 12-gauge shotgun. One of the drive-by shooters also own this shotgun (with an extented tube): it's the one with the glasses and the stud belt.
Judging by where Strickland was pointing the shotgun when ordering Marty McFly off his property, he would have quite literally ruined Marty's prospects of fathering children by Jennifer Parker forever, had it not been for another drive-by shooting from a carload of gun-toting slackers that occurred — forcing Strickland to fire off a few rounds towards the vehicle instead, and Marty taking the opportunity to escape while Strickland was distracted.
Appearances
See also
Ad blocker interference detected!
Wikia is a free-to-use site that makes money from advertising. We have a modified experience for viewers using ad blockers

Wikia is not accessible if you've made further modifications. Remove the custom ad blocker rule(s) and the page will load as expected.