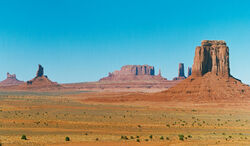 Monument Valley is a large valley in Arizona and Utah filled with sandstone mesas. It has been used for shooting hundreds of films representing the Old West, including Back to the Future Part III, where it was seen in 1955 (at the Pohatchee Drive-In Theatre) and 1885.
See also
Ad blocker interference detected!
Wikia is a free-to-use site that makes money from advertising. We have a modified experience for viewers using ad blockers

Wikia is not accessible if you've made further modifications. Remove the custom ad blocker rule(s) and the page will load as expected.