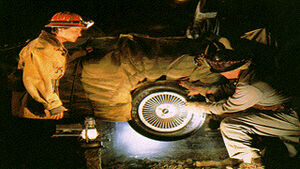 "Marty opened his eyes as the dirt stopped falling. When the dust cleared, he saw that almost half the hill was gone! / Doc may have overdone the dynamite a bit. Marty was glad that all of them — even Copernicus — were wearing miners' helmets."
—From Back to the Future Part III by Craig Shaw Gardner (quote, page 17)
Miners' helmets were worn by Marty McFly, Emmett Brown and Copernicus for protection and to see by on November 14, 1955, when they recovered the DeLorean time machine from the Delgado Mine where Doc's 1985 counterpart had hidden it after becoming stranded in 1885 when the DeLorean was struck by lightning on the night of November 12.
The helmets also proved useful outside the mine when Doc and Marty blasted their way in using dynamite, bearing in mind the size of the resulting explosion and the amount of dirt and debris that rained down on them afterwards.
Appearances
See also
Ad blocker interference detected!
Wikia is a free-to-use site that makes money from advertising. We have a modified experience for viewers using ad blockers

Wikia is not accessible if you've made further modifications. Remove the custom ad blocker rule(s) and the page will load as expected.