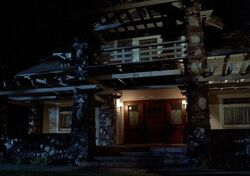 "They [Marty and George] soon arrived at the house with a placard hanging from the porch. It read THE MCFLYS. A bit tacky for 1985 but probably chic for 1955, Marty thought."
—From Back to the Future by George Gipe (quote, page 158)
The McFly residence on Sycamore Street was home to Arthur and Sylvia McFly, and their son George McFly in 1955. It faced downtown and was accessible by a few streets.
Behind the scenes
This house is located on the real life Bushnell Street in Pasadena near the houses that represented the Baines residence and the Tannen residence.
Appearances
Ad blocker interference detected!
Wikia is a free-to-use site that makes money from advertising. We have a modified experience for viewers using ad blockers

Wikia is not accessible if you've made further modifications. Remove the custom ad blocker rule(s) and the page will load as expected.