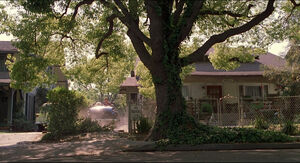 Mason Street was a north-south running street in Hill Valley.
Biff Tannen's house was located at 1809 Mason Street, where he lived with his grandmother, Gertrude Tannen.
On the morning of November 12, 1955, Biff walked north toward town so that he could pick up his car at Western Auto, and Marty McFly followed him covertly. Along the way, Biff took a ball away from some children and threw it onto the roof of a house.
Appearances
Ad blocker interference detected!
Wikia is a free-to-use site that makes money from advertising. We have a modified experience for viewers using ad blockers

Wikia is not accessible if you've made further modifications. Remove the custom ad blocker rule(s) and the page will load as expected.