Marty McFly's jean jacket
Talk

0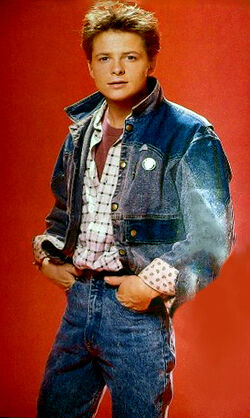 Marty McFly wore a gray and blue two-tone jean jacket in 1985. He often wore an orange down vest on top of the jacket.
Jacket specifics
The jacket is mostly gray with blue panels at the top of the arms and shoulders, the collar, and pocket flaps. It has five brass snaps at the opening and two brass snaps on each of the front pockets. The waistband is elastic and there is a crease where the arms meet the back of the jacket.
Brand
Marty's jacket was specially created by Guess with modifications made by the Back to the Future costume designers. The jacket was never produced for sale.
Lining
Marty always wore the cuffs turned up on his arms, revealing the jacket's lining.[1]
Pins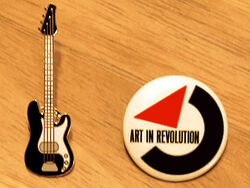 Marty added one button and two pins to the left side of the jacket.
Art in Revolution - The white button with the red triangle and black semi-circle.
Bass Guitar - The guitar pin is a black and gold Fender Precision Bass.
Boomerang - Not a lot is known about this pin, but it would appear to be a boomerang.
Behind the scenes
The jacket turned up in the window display of the Blast from the Past memorabilia/antique store in 2015, worn by a mannequin, having been included as an in-joke. In the context of the movie, whether this is exactly the same jacket Marty wore in 1985 is perhaps best left to personal preference. (Back to the Future Part II)
Appearances
Notes and references
↑ The lining is not Guess. It was added by Back to the Future costume designers.